Can I Be Arrested for Flying a Drone in Florida?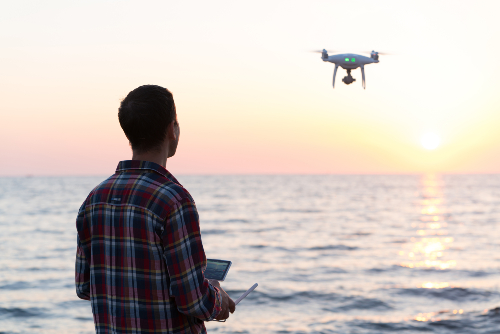 It seems like drones are growing more and more prevalent with each coming year. With this increasing popularity, the legality of drone use has become a hot discussion. If you own a drone or would like to use a drone in Florida, you should know the laws and how you can keep yourself out of trouble.
What Are the Laws for Operation of a Drone in Florida?
Flying a drone is legal in Florida under some restrictions. Failure to abide by these regulations could result in a charge for either a misdemeanor or felony crime. To lawfully operate a drone in Florida, you must:
Register your drone with the Federal Aviation Administration (FAA). Registration can be completed on the

FAADroneZone website

.

Carry proof of registration and have the registration number displayed on the exterior of the drone.

Avoid flying the drone over anyone who does not (or cannot) consent to having it flown over them, such as over groups of people at public events or over stadiums.

Pass an FAA Aeronautical Knowledge Test (also known as a Part 107) if you intend to use the drone for work or business purposes.

Not fly the drone under 400 feet in most airspaces.

Never fly the drone over or near areas in which first responders are working, such as over or near accident sites.

Never fly the drone in controlled or restricted airspaces, such as near airports or Washington, D.C.

Never operate a drone while under the influence of drugs or alcohol.

Never use a drone to stalk someone.

Never transport drugs with the drone.

Never hit someone or threaten to harm someone with the drone.

Never fly the drone over critical infrastructure facilities, such as:

Correctional facilities

Mining facilities

Natural gas storage facilities

Chemical manufacturing facilities

Aboveground gas pipelines

Wireless communications facilities
It can be challenging for drone owners and operators to know where it is safe to fly their drones. The FAA understands this, so they have created an app called B4UFLY to help recreational drone operators know whether or not it is safe to fly their drone.
What Are the Penalties for Illegal Operation of a Drone in Florida?
A failure to abide by the local, state, and federal regulations regarding drone operation in the state of Florida could result in a serious criminal charge. You do not need to intentionally break the law to be found guilty of the illegal operation of a drone. Should you be convicted, you could face steep fines, incarceration, status as a convicted felon, and other punishments depending on the circumstances surrounding your offense.
Contact a Skilled Attorney for Defense of Illegal Operation of a Drone in Florida
Attorney Brian Gabriel has over 30 years of experience defending individuals charged with crimes in Florida. When you work with The Law Office of Gabriel & Gabriel, Brian Gabriel will personally create a defense strategy for your charges. The illegal operation of a drone can result in misdemeanor or felony charges. Do not face these severe penalties alone. Call (561) 622-5575 or complete a contact form to learn more about how Brian Gabriel can help defend your case. Consultations are always free.