Do Arrest Warrants Show Up on Background Checks?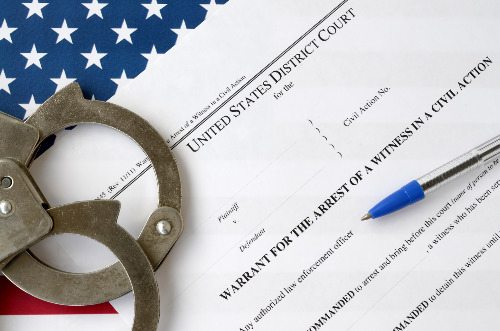 Anyone who may have been in trouble with the law or a court might worry about whether an outstanding warrant will show up on an employee background check. The answer isn't as straightforward as you might think; whether or not a potential employer will see a warrant depends on the type of warrant and the type of background check the employer conducts.
If you're concerned that an employer, landlord, or even a future dating partner might see a warrant on your record, you may always check for yourself. However, before you start down that rabbit hole, here is some general information you should know about warrants and what is likely to reach your employer.
There Are Different Kinds of Warrants
A law enforcement agency or court may issue a warrant in a variety of situations. The three most common warrants are:
Arrest warrants
Civil warrants
Bench warrants
Different background checks will pull information from different databases. It is possible that not every employer you send your resume to will see the same warrants against you, and it's possible they will not see any warrant at all.
Warrants are legal documents requesting that a person be detained in relation to a legal matter that may or may not be criminal in nature. Arrest, civil, and bench warrants are issued for different reasons.
You may have an arrest warrant against you if you're a suspect in a crime. Law enforcement agencies issue these when they have some evidence that ties individuals to criminal activity.
You may have a bench warrant against you if you failed to appear before a civil or criminal court when you were required to do so. Judges issue these warrants to authorize law enforcement to arrest you and bring you before the court.
Judges may issue civil warrants when you fail to comply with court orders. If you were ordered to pay child support, for example, and did not do so, then a civil warrant empowers police to arrest you.
Warrants in and of themselves are not criminal matters, so they should not appear on your criminal record. However, they may appear in other data that some background checks may have access to.
Arrest Warrants Don't Prove That You're A Criminal
Arrest warrants are among the first steps in a criminal procedure and may be issued after police have conducted an investigation of a possible crime. They do not prove that you have committed a criminal offense, although they do indicate that you're a suspect in a criminal matter. Most people have an understanding of this, and many employers may not hold it against you.
Bench and civil warrants are public court records that anyone can access. You can even look up your own bench or civil warrant. If you have one against you, it may be possible to communicate with the court to resolve the matter with the help of a bench warrant lawyer in West Palm Beach.
What Warrants Might Show Up on Background Checks?
Basic criminal background checks conducted by employers tend to look at your criminal record and other sources of personal information for verification. While it is unlikely that outstanding arrest warrants will appear on these checks, there are more in-depth checks employers may use to find your warrants. Such checks are often used by employers hiring professionals who require more security clearance.
If you're applying for a job that may relate to any of the following, your potential employer might conduct a more thorough background check that could reveal an arrest or bench warrant.
Positions with U.S. intelligence agencies or the U.S. military
Security personnel
Civilian contractors working with the U.S. government or military
Law enforcement officers
Anyone who needs access to classified information
Overall, it's probably a good idea to conduct a search on yourself to see what comes up. You may choose to do a professional or public background check. If you find information that may hurt your chances of landing your dream job, apartment, or partner, reach out to an experienced lawyer.
Resolve Your Bench Warrant in West Palm Beach ASAP
The sooner you address any outstanding warrants against you, the better your future may be. West Palm Beach attorney Brian P. Gabriel has over 30 years of experience helping people resolve legal matters pertaining to criminal defense. Brian Gabriel, of The Law Office of Gabriel & Gabriel has a goal to seek the best possible outcome for your case. Call 561-622-5575 for a free consultation or complete a contact form.