Anti-Human Trafficking Bill Gains Widespread Support, is then Pulled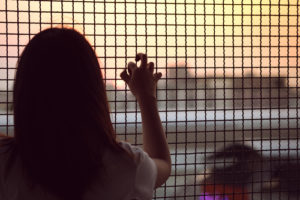 With the Florida legislative session drawing to a close, a highly popular bipartisan bill has suddenly been postponed. SB 1044, introduced by Senator Lauren Book of Plantation, sought to give human trafficking victims the power to sue businesses like hotels and others who kept quiet about illegal activity that subjected them to abuse. Though she introduced the bill, she has postponed its final hearing due to concerns that the House version of the bill, HB 167, does not do enough to protect victims and instead protects businesses in the hospitality industry.
Florida Lawmakers Determined to Fight Human Trafficking
The original intent of HB 167 was to empower human trafficking victims to sue business owners and others who facilitated human trafficking if they knowingly allowed traffickers to use their property or services to conduct illegal activity. Several victims traveled to Tallahassee to share their stories; many claimed that they knew hotel workers understood what was going on but failed to offer any help. Not one legislator voted against the bill after hearing their horrifying tales. Yet, in the bill's final hurdle, Senator Book requested the bill be postponed. This move seemed unusual from Book, who herself was subjected to abuse as a child.
According to Book, she stalled the bill because lobbyists for the hotel industry were pushing House representatives to amend their version of the bill.
HB 167 had been modified with an amendment by Representative Ross Spano protecting hospitality businesses from lawsuits so long as they provide human trafficking training to employees and develop a plan to report it. Businesses that do not provide training to their employees could lose their licenses but would be spared being subjected to civil action.
Senator Book promised that she was not giving up the fight; she did not wish to pass a watered-down version of the bill that would continue to protect the industry as a haven for traffickers. Advocates and trafficking survivors who had worked with Book and Representative Ross Spano, the bill's House sponsor, were devastated.
Florida Reaches Record Number of Human Trafficking Reports
With its widespread tourist appeal, South Florida is a hotspot for human trafficking. According to human trafficking report statistics posted by Human Trafficking Search, Florida has the third-highest number of reported trafficking cases of all fifty states with 1,900 calls statewide in 2016, up 54% from the previous year. Within Florida, Orlando takes third place for the number of calls per capita to the National Human Trafficking Hotline. The number of reports has risen as awareness of human trafficking warning signs has grown among food service and hospitality workers, and the general public.
While the state claims to have a zero-tolerance policy for human trafficking, many hotels and restaurants are havens for illegal activity. Those who are mistakenly tied to human trafficking activity can face severe penalties. Human trafficking is a felony offense that can also be prosecuted at the federal level under certain circumstances. If you are being investigated for human trafficking, a West Palm Beach criminal defense attorney can help you understand your rights at this time and carve a resilient defense. Call The Law Office of Gabriel & Gabriel for a free consultation at 561-622-5575 or email us.