What Are My Rights When Passing Through Airport Security?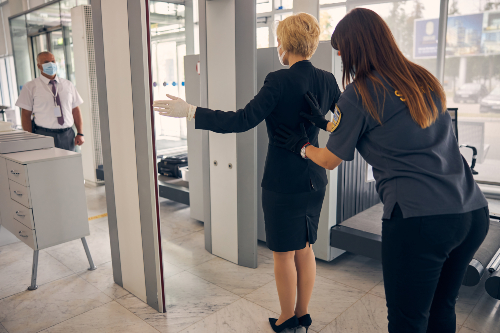 Following the attacks of September 11, 2001, Congress signed The Aviation and Transportation Security Act and established the Transportation Security Administration (TSA) as a means of preventing similar incidents in the future. Although one of the TSA's goals is to make airline passengers feel safer during their travels, many find the process to be more intrusive than relieving.
Arrests for Criminal Offenses at Florida Airports
Airport security in the United States has a knack for making even the most innocent people feel like they are guilty of a crime they are not yet aware that they have committed. Yet, despite their federal status and authoritative demeanor, TSA agents are not law enforcement officers and do not have the ability to arrest or detain you.
However, there are usually law enforcement officials at the airport that do have the capability to detain someone or make an arrest. The most common criminal offenses that lead to arrests in Florida airports involve:
A concealed firearm or weapon
Disorderly conduct
Driving under the influence (DUI) on airport property
Marijuana and other controlled substances
Public intoxication
Theft
Interfering with a TSA official
Entering a secure area without submitting to security screening
The TSA's techniques have been met with their fair share of controversy as people of certain ethnicities are singled out for further screening at disproportionately higher rates than those of other ethnicities.
The American Civil Liberties Union (ACLU) has raised concerns about racial profiling by airport security and has reported that "various documents from the TSA's files reflect a disproportionate focus on or an overt bias against Arabs, Muslims, and people of Middle Eastern or South Asian descent."
Racial profiling in airport security can contribute to higher rates of arrest in airports for some ethnicities.
Can You Refuse Security Screening at the Airport?
When passing through airport security, remember that TSA agents cannot enforce the law and that the Fourth Amendment safeguards you from unreasonable searches and seizures. Therefore, you hold the right to:
Decline the full-body scanner in favor of a pat-down in a private location by a TSA agent of the same gender.
Request the presence of a law enforcement officer or second TSA agent during your pat-down.
Refuse to remove any clothing (including headscarves or other religious clothing) that is not outerwear.
The United States Constitution may provide you with the right to travel, but it does not specify a right to travel by airplane. Thus, you have the right to reject all TSA screening entirely, but in doing so, you will forfeit your ability to board your flight.
Were You Arrested at a Florida Airport? Call a Skilled Criminal Defense Attorney Today
If you were arrested at a Florida airport, you could be facing prosecution at the state or federal level. Criminal Defense Attorney Brian Gabriel has over 30 years of experience defending people accused of various types of criminal offenses and is qualified to defend both state and federal criminal charges.
When you call The Law Office of Gabriel & Gabriel at (561) 622-5575, Criminal Defense Attorney Brian Gabriel will evaluate your case at no charge. Submit a completed contact form to request more information about how he can help with your case today.