What to Do If Your Designated Driver Gets Drunk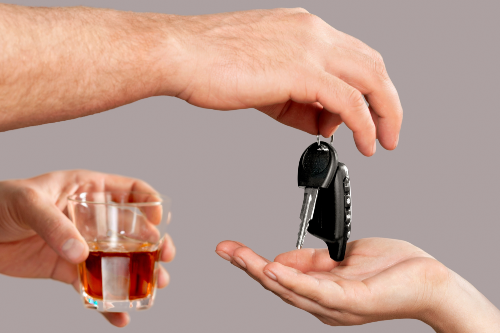 In the last several decades, the term "designated driver" has become a buzzword for responsible drinking. A designated driver is a member of a group who abstains from alcohol in order to drive the others safely. When friends go out, it's not uncommon for everyone involved to agree ahead of time on that one person who will remain sober to ensure the group's safety and protection.
Designated drivers are often the heroes of the group. After all, any person who sticks around a bunch of intoxicated friends just to make sure they all get home in one piece is someone to appreciate. Not only does this mean that their friend group isn't endangering themselves and others, but it also means there are fewer drunk drivers on the road.
Or does it? Statistics published in the Journal of Studies on Alcohol and Drugs indicate that a designated driver isn't always sober, but perhaps just the least drunk of everyone in the group. You may wonder what you should do when faced with this scenario. Here's what you need to know.
Steps to Take If Your Designated Driving Plans Fail
No matter how foolproof you think your designated driving plan is, there's always a chance that your DD will make a mistake and consume alcohol. If this is the case, it's important to have a few backup options. The worst mistake you can make is assuming that your designated driver will be okay behind the wheel because they only consumed a drink or two. After all, drinking less alcohol than everyone else in your group is still drinking alcohol.
If your designated driver has been drinking at all, you need to choose a different way home. Fortunately—though it depends on your location and timing—there are likely to be many possibilities at your disposal. Here are just a few:
Call a parent or other sober adult: If your designated driver gets drunk, call other sober friends or family for assistance.
Call a taxi: Before you head out, have the number to a taxi saved on your phone for emergencies like this one. Likewise, if you live in a big city, you can head outside and hail a taxi.
Use public transportation: Depending on where you live, there may be trains or buses that you can use to make your way home.
Arrange a ride through Uber or Lyft: Hail a car through your smartphone, and within minutes, you'll be picked up where you are and whisked home. Even if your ride is expensive, it is worth it to splurge.
Stay overnight at a friend's house: If you're at a house party and have no way home, consider staying overnight and leaving in the morning when you're sober.
Use a designated driving service: There are apps like SafeRideAmerica, IDriveYourCar, and BeMyDD that will come to you with two sober drivers—one to drive you and the other to drive the second vehicle.
It's important for a designated driver to keep their commitment for the evening. One night of abstaining from alcohol for their safety and that of their friends is far less unpleasant than the consequences of drunk driving. However, if you find that your designated driver did consume alcohol, consider the option above.
Nevertheless, when you find yourself on the wrong side of the law, you may have legal recourse. Contact attorney Brian Gabriel from The Law Office of Gabriel & Gabriel for assistance today.
Contact an Experienced DUI Defense Attorney in West Palm Beach
If you've been arrested for driving under the influence because your designated driver got drunk, get in touch with a Florida criminal defense lawyer at The Law Office of Gabriel & Gabriel as soon as possible. After meeting with you to discuss the incident in question, attorney Brian Gabriel may be able to help determine the most effective strategy to execute based on the circumstances of your case.
Attorney Brian Gabriel has served the community of West Palm Beach for more than 30 years as a criminal defense lawyer. He understands the complexities that are often involved in DUI defense cases and can help protect your reputation and future. After an arrest, you can be assured that you're in good hands and that attorney Brian Gabriel will fight for your rights. Call (561) 622-5575 or complete a contact form for a free consultation.