Who Gets a Court-Ordered PIP Suspension?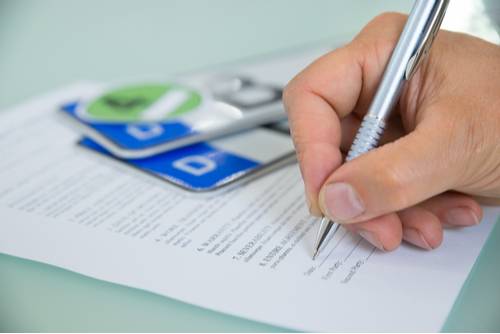 Have you recently been pulled over for a traffic violation and were unable to show proof of auto insurance? If so, you may have been issued a citation for "no proof of insurance," which will lead to a PIP suspension of your driver's license. 
You Must Have Proof of Insurance When Driving in Florida
Driving without auto insurance is illegal in Florida. When you're pulled over and can't provide proof of car insurance, the state of Florida will issue a court-ordered PIP suspension. 
First, the police officer who stops you will give you a ticket for not having proof of insurance, since failing to provide the officer with proof that your car is insured is a traffic violation by itself. So, if you're the owner of the registered car, you will get a ticket for not having proof of car insurance, which may lead to a PIP suspension, even if you do have the sufficient coverage but simply misplaced your insurance card. 
At The Law Office of Gabriel & Gabriel, we help drivers overcome license suspensions and get back their full driving privileges through legal avenues that may be available to them. When your driver's license is suspended in Palm Beach County, look no further than our firm to get behind the wheel again.
What to Do After Receiving a PIP Suspension
After you receive a citation for not having proof of car insurance, you will need to contact the traffic court and pay any fines associated with your ticket. If you did have vehicle insurance at the time you were cited, you will need to send the court proof of that insurance coverage. Otherwise, the Florida Department of Highway Safety and Motor Vehicles will find out about your conviction, and will automatically suspend your registration and driving privileges. This may occur five days from the date of your suspension notice.
How to Get Your Driver's License Back
To get your license back after a citation for not having proof of insurance, you must be certain to have coverage that meets the state's bare minimum requirements. If your vehicle is uninsured, you must first acquire a car insurance policy that meets Florida's minimum car insurance requirements:
$10,000 personal injury protection (PIP)

$10,000 property damage liability (PDL)
Additionally, drivers looking to get their licenses back after a court-ordered PIP suspension must purchase six months of noncancelable SR-22 insurance for PIP and PDL. The insurance company electronically files your SR-22 certificate with the state of Florida. You must keep your SR-22 coverage continuously for 2 consecutive years starting from the date the DMV suspended your license. 
After acquiring SR-22 coverage, you must pay a fee to reinstate your license. This fee is $150 for a first offense and increases for each additional offense.  If you do not obtain SR-22 insurance coverage, you may surrender your valid tag and vehicle registration for the uninsured vehicle to the driver license office and pay the reinstatement fee. You may also present proof that you no longer possess the uninsured vehicle and pay the fee. The fee increases with every offense of failure to provide proof of auto insurance.
Fight a PIP Suspension with a Reputable West Palm Beach Traffic Lawyer
Remember, if you had insurance coverage when you received a citation for no proof of insurance, you need to send the court proof of that coverage. Attorney Brian P. Gabriel has worked extensively with traffic courts throughout Palm Beach County during his 30 years of service as a criminal defense lawyer. He may be able to help you move past license suspensions in ways that will help you avoid damage to your driving record and reputation.
Brain Gabriel has helped countless drivers in South Florida get their licenses back after being cited for a range of traffic offenses. Whether you face a minor or severe charge for a traffic offense, you can count on Brian to explore all possible ways of challenging the citation and protecting your interests. 
Call 561-622-5575 for a free consultation or complete our contact form.